i'm married.
it's still wierd to think about and even to say. and it's only been a week. I already told my husband (lol) that it will probably not be till next month that it's real to me. See, we've been dating for so long that we know just about everything there is to one another, yes there has been some new ground but i think the weirdest part is that i don't have to send Sebi home anymore, there's no more figureing out who's going to drive to who's house etc.
The wedding was beautiful. Small. very small i think there were probably more empty chairs in the sealing room than filled chairs... :S and it didn't help that they were all lined up against the wall oh well it was still wonderful. The temple really is the best place to get married. something totally unexpected to me (that i can share outside the temple) is that there was this "you may now kiss the bride" moment! lol i think we were both so nervous and excited that most of everything just seemed like a blur.
Our reception was a blast. I started to worry when i got there and almost put myself into a bad mood when i said "hey, you know what? this is MY party for me to E N J O Y and so i am going to" like i said it was a blast. I hope everyone had as much fun as i did. to my suprize not only did i get my dad to be there too but he brought a CAKE! it was GORGOUS too.
and even more amazing is that he brought it on the grayhound bus and made it in the Motel 6 in the morning of my wedding day.
So then we went off to our honeymoon...wait..sorry i have to tell you the 2 most awesome things about the wedding (besides cake). 1st--is that instead of throwing a bouquet and only ONE girl getting flowers, i had ribbons with "wedding type" charms stuck into the top of my cake and ALL the single girls got to pull one ribbon out, who ever got the ring was the next to get married. and everyone else got something too even if it wasn't the ring.
2nd--we had roses stuck to ferns....neat effect but they were kinda dieing, we didn't have bubbles or rice or anything for people to throw at us so i asked my wonderful RS Sisters/Bridesmaids to pass out the roses and tell people to throw the petals at us as we left it was A W E S O M E because those flowers were actually used for something and they would have died anyway! ok!
So then we went off to our honeymoon down in Anahiem we were so tired i don't even remember what the room looked like...except that i think i did watch Saturday Morning Cartoons the next morning. and then we went to Disneyland (ofcourse!) we left a little early because we were still quite tired. after that we came home to our appartment and opened all our gifts. Church on Sunday and then off to our "real honeymoon" in Vegas that Sebi's boss had paid for as our wedding present! we stayed directly across the street from the Belaigio and had a PERFECT window to see the fountain going off every 15 or so minutes. That fountain really is AWESOME and if we were really really quite we could even hear the music :)
OH! and our room had a huge suite style bathroom with the biggest tub i've ever had the chance to bathe in. We went to eat at a super upscale restraunt (sebi picked it out) in the Luxor and had valet service i felt like a QUEEN.
THIS THE THE TABLE WE SAT AT
the next night we went and did the rides at the Hilton that are all StarTrek. if you like StarTrek and have EVER thought ....it would be so cool to be on the bridge i was SOOOO TOTALLY THERE!! it's cool! seriously and we had a ton of fun! we even got asimulated by the Borg! and then we went to eat at the "Galaxy Diner" place and Sebi got the flaming ribs of targ! they were delishes! I even met a clegnon, probably Warf's sister! Our seat at the reasturant there was right under these giant models of the Enterprize!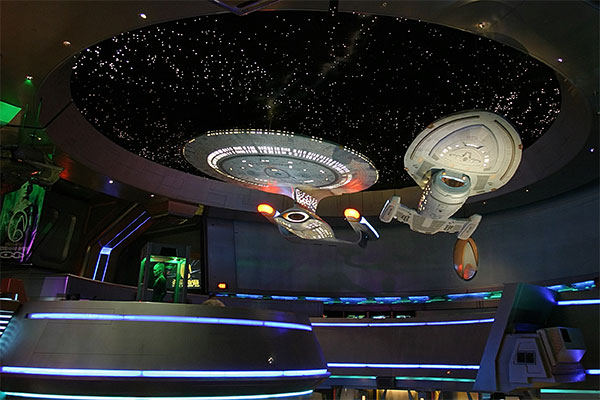 now were back home and sorry i don't have ANY pictures of our honeymoon :( oh well i guess we'll just have to go back and do it all over again!!!